Ian Fleming created the character of James Bond and wrote the original book series consisting of 14-books, listed below. Most of these have been made into highly entertaining and successful motion pictures. Hell, I grew up on them...well, at least the Sean Connery ones.
1. Casino Royale 1953
2. Live and Let Die 1954
3. Moonraker 1955
4. Diamonds Are Forever 1956
5. From Russia With Love 1957
6. Doctor No 1958
7. Goldfinger 1959
8. For Your Eyes Only (short stories) 1960

From A View To A Kill

For Your Eyes Only
Quantum of Solace
Risico
The Hildebrand Rarity

9. Thunderball 1961
10. The Spy Who Loved Me 1962
11. On Her Majesty's Secret Service 1963
12. You Only Live Twice 1964
13. The Man With The Golden Gun 1965
14. Octopussy & The Living Daylights (short stories) 1966

Octopussy
The Living Daylights
The Property Of A Lady
007 in New York
Fleming wrote some pretty interesting and exciting stories, nonetheless they were lacking in certain areas. One of those was the technical knowledge of firearms. In this particular arena, Mr. Fleming was seriously lacking. He initially armed Bond with a .25 ACP (6.35 mm) caliber Beretta automatic with a skeleton grip (probably meaning the stocks were removed), it was Bond's issued sidearm. He carried it in a in a chamois leather shoulder holster. That gun was actually a Beretta 418 and no one in their right mind would go in harm's way so armed.
Beretta Model 418 Specifications:
action type : single

operation type : blowback
safety type : grip-safety
magazine capacity : 8
weight : 350 g (12.35 oz)
Beretta Model 418 Dimensions:
slide length : 114 mm (4.5 in)

slide width : 18 mm (.71 in)
slide thickness : 3.5 mm (0.14 in)
frame length : 107 mm (4.2 in)
frame width : 13 mm (.51 in)
frame thickness : 1.9 mm (.075 in)
barrel length : 60 mm (2.4 in)
handgrips thickness : 5 mm (.20 in) at the bottom, 4 mm (.16 in) at the top
overall pistol length : 117 mm (4.6 in)
overall pistol width : 23 mm (0.9 in)
overall pistol height : 87 mm (3.4 in)
Enter one Geoffrey Boothroyb.
Mr. Boothroyd, it appears, was a British firearms expert and author of several works on the subject and had read the Bond books published to date. He was dissatisfied, to say the least, with Fleming's choice of arms for our hero and subsequently wrote Mr. Fleming to voice his expert opinion.
Here is that correspondence via the
Letters of Note
blog.
Late-May of 1956, James Bond author Ian Fleming received a politely critical letter from a firearms expert named Geoffrey Boothroyd. It began:

I have, by now, got rather fond of Mr. James Bond. I like most of the things about him, with the exception of his rather deplorable taste in firearms. In particular, I dislike a man who comes into contact with all sorts of formidable people using a .25 Beretta. This sort of gun is really a lady's gun, and not a really nice lady at that. If Mr. Bond has to use a light gun he would be better off with a .22 rim fire; the lead bullet would cause more shocking effect than the jacketed type of the .25.

May I suggest that Mr. Bond be armed with a revolver?

Boothroyd's long letter continued in a similar vein, filled with incredibly detailed weaponry suggestions for 007. Fleming, delighted to be furnished with such expert advice, immediately replied with the letter seen below, and, as a result of their subsequent correspondence, equipped Bond with a Walther PPK in the novel Dr. No.

And the name of Bond's new armourer? Major Boothroyd.

Update: The BBC have footage of Boothroyd talking about this very exchange, introduced by Sean Connery. (Thanks, Simon!

Transcript follows. Image courtesy of Bloomsbury Auctions.

(The copyright in this letter is owned by the Ian Fleming Estate and is reproduced here with the Estate's permission. Further use of the letter is not permitted without the Estate's express permission.)


Transcript

KEMSLEY HOUSE, LONDON, W.C.1.

31st May, 1956

Dear Mr Boothroyd,

I really am most grateful for your splendid letter of May 23rd.

You have entirely convinced me and I propose, perhaps not in the next volume of James Bond's memoirs but, in the subsequent one, to change his weapons in accordance with your instructions.

Since I am not in the habit of stealing another man's expertise, I shall ask you in due course to accept remuneration for your most valuable technical aid.

Incidentally, can you suggest where I can see a .38 Airweight in London. Who would have one?

As a matter of interest, how do you come to know so much about these things? I was delighted with the photographs and greatly impressed by them. If ever there is talk of making films of some of James Bond's stories in due course, I shall suggest to the company concerned that they might like to consult you on some technical aspects. But they may not take my advice, so please do not set too much store by this suggestion.

From the style of your writing it occurs to me that you may have written books or articles on these subjects. Is that so?

Bond has always admitted to me that the .25 Beretta was not a stopping gun, and he places much more reliance on his accuracy with it than in any particular qualities of the gun itself. As you know, one gets used to a gun and it may take some time for him to settle down with the Smith and Wesson. But I think M. should advise him to make a change; as also in the case of the .357 Magnum.

He also agrees to give a fair trial to the Bern Martin holster, but he is inclined to favour something a little more casual and less bulky. The well-worn chamois leather pouch under his left arm has become almost a part of his clothes and he will be loath to make a change though, here again, M. may intervene.

At the present moment Bond is particularly anxious for expertise on the weapons likely to be carried by Russian agents and I wonder if you have any information on this.

As Bond's biographer I am most anxious to see that he lives as long as possible and I shall be most grateful for any further technical advices you might like me to pass on to him.

Again, with very sincere thanks for your extremely helpful and workmanlike letter.

Yours sincerely

(Signed)

IAN FLEMING

G. Boothroyd, Esq.,
17, Regent Park Square,
Glasgow, S
As a result of the correspondence Fleming gave Bond a .32 ACP (7.62 Browning) Walther PPK pistol in Dr. No and created a character named "Major Boothroyd" in the novel. (The real Boothroyd held no such rank.) Prior to the correspondence Fleming is reported to have thought guns to be dull. Boothroyd advised Fleming on the use of silencers and suggested various firearms for use by Bond and other characters.
Shown below is an article, on this very subject, written by Mr. Boothroyd. It was first published in the May/June 1965 edition of "Handgunner", an excellent British firearms magazine, and subsequently published here, in the States, in the January 1987 edition of "Guns" under the title of "I Was James Bond's Armourer".
(Ken's Note: these scans are courtesy of Mr. Richard Bhella who most generously provided them for this post. I thank you sir.)
Seen on film, Mr. Boothroyd explains his relationship with Ian Fleming and his technical advice. You will note that Fleming did not follow Boothroyd's advice completely, Fleming went for the PPK instead, but used Boothroyd's own revolver for the original cover of From Russia with Love
(Ken's Note: seen at the bottom of this page courtesy of Mr. Dennis Martin. Thank you kindly sir.)
Geoffrey Boothroyd on the guns of 007

Personally, I too feel Bond could have been better armed. If it had to be a smaller automatic, then get him one in .380 ACP (9mm Browning). There were several good, reliable, and concealable automatics around at that time in that caliber. The M1908 Colt Pocket Hammerless, Walther's PPK, and Beretta's Model 1934 would be the top runners. I wont even comment on the chamois shoulder holster.
Given the time period, I think a good choice would have been a revolver similar to Boothroyd's, but in .38 Special (K-frame .357's weren't produced until 1957) and sans the cutaway trigger guard, which I cannot condone on safety and pistol incapacitation grounds. If necessary, simply relieving the right side of the guard will suffice while still maintaining a solid and therefore safe guard. Cutaway trigger guards, once popularized on the famous "Fitz Specials", never proved to increase draw & fire times any better than the standard guard.
All in all, the Bond novels are an interesting and now historical read. I'm in the process of reading them all, in sequence, and find them quite enjoyable. Nevertheless, I can't help but wonder how they would have turned out if Mr. Fleming had Tom Clancy's flair for technical accuracy...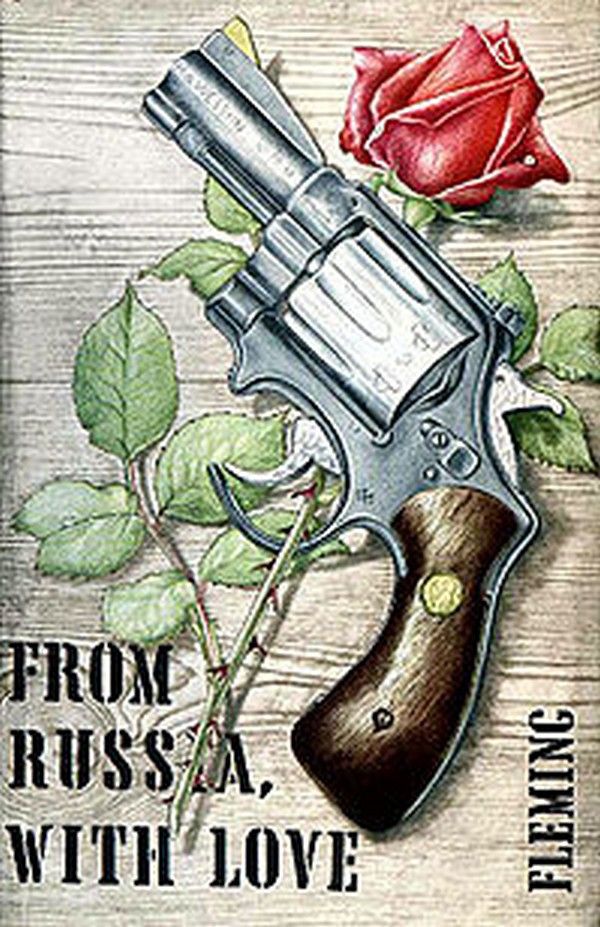 A PDF of the article:
Armourer to 007 - Boothroyd